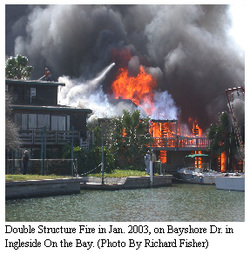 Ingleside On the Bay Vol. Fire Dept.
NOTICE: IT IS A VIOLATION OF ORDINANCE #2007-7 TO POSSESS OR DISCHARGE FIREWORKS IN THE CITY LIMITS OF INGLESIDE ON THE BAY. THE FIRE DEPARTMENT HAS THE POWER TO CONFISCATE AND ISSUE WARNINGS AND CITITIONS FOR OFFENSES
Welcome
to our website, we would like to thank you for visiting.
The Ingleside On the Bay Vol. Fire Dept. is an all volunteer fire department. We are located in the great state of Texas, in the City of Ingleside On the Bay. We operate on a budget of less than $12,000 a year from the City of Ingleside On the Bay. Most of our money used to finance the department comes from donations from those served by us.
The Fire Dept is dispatched by San Patricio County Sheriffs Office, and we have our own in house dispatchers that take over our dispatch after the initial by the Sheriffs Office. We are paged out to fires via text pagers to our firefighters private mobile phones. The text pagers and cell phones are paged at the same time. We also use VHF for secondary page once firefighters arrive at the station. We have mutual aid agreements with the entire county of San Patricio and all of Aransas County.
Any questions or comments to us, can be sent to us via the
Contact Us
Page link. Also other Fire Depts. from around the world can message us to exchange patches or t-shirts. Just send a us a line.
---